Curriculum
Art and Design
The Arts are at the heart of our curriculum here at The Oaks. We believe that the arts support children in the achievement of basic skills and supports a the teaching of a broad and balanced curriculum.. Every week all children participate in an art and design lesson taught by either their class teacher or our specialist art teaching assistant (Ms Martin) Lessons follow a progression of skills based upon the skills that have gone before ensuring each year group is taught different skills. Topics covered in art directly link to the topics that are covered in the classroom. Our art and design curriculum supports, celebrates and promote diversity through the learning of different artists.
Trips, Visitors and Experiences
Here at The Oaks, we strive to provide our children with memorable and enriching experiences across the curriculum. We have been lucky to be able to work alongside a variety of experts such as The Clonter Arts Project and Adopt a School.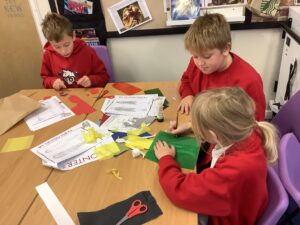 The Arts Curriculum Statement
"Art, craft and design embody some of the highest forms of human creativity. A high-quality art and design education should engage, inspire and challenge pupils, equipping them with the knowledge and skills to experiment, invent and create their own works of art, craft and design. As pupils progress, they should be able to think critically and develop a more rigorous understanding of art and design. They should also know how art and design both reflect and shape our history, and contribute to the culture, creativity and wealth of our nation."  DfE National Curriculum, Art and Design Programmes of Study  
At The Oaks Primary School, The Arts provides a source of inspiration, enjoyment and fulfilment as part of our broad and balanced curriculum. It gives the opportunity for children to express themselves, their emotions and thoughts, use their imagination, and experiment and develop creativity. 
The Arts curriculum enriches the school curriculum by providing cross curricular links with other subjects and a variety of ways to showcase the learning achieved by the children. Taking part in The Arts encourages creativity and increases our children's confidence by providing them with the opportunity to express themselves in a variety of different ways using different media. 
Intent
At The Oaks, we want our children to have high aspirations, a belief in themselves and realise that anything is possible if they put their mind to it. 
What do we want for our pupils?
To be a respectful audience where others are performing and respect the art form produced by others 

To participate in a range of arts forms such as drama, dance, D&T, art, music which will help children to become responsible, creative and critical thinkers 

To gain insight into different cultures, viewpoints, explore how arts are valued in different cultures and traditions 

To develop an appreciation of the arts, in all of the different formats, and to understand that art will look different and can be interpreted in different ways

To be able to use knowledge and skills gained during the teaching of The Arts as a form of self-expression and identity, which will allow the children to become reflective on their own art forms and the art forms of others 
What do we want from our curriculum? 
To build an Arts curriculum that develops learning and skills, that progress year upon year as part of our broad and balanced curriculum

To provide a broad and balanced curriculum that is accessible to all learners so learning and acquisition is available to all through a variety of media 

To build an Arts curriculum that supports with learning across all areas of the curriculum

To showcase the Arts curriculum in a variety of different ways to give children a sense of achievement and invite the wider school community to enjoy and participate in The Arts at our school

To ensure that opportunities are being provided that consistently challenge all learners across all areas of our broad and balanced curriculum through the development and progression of skills across the year groups
Implementation 
How do we deliver The Arts at The Oaks Primary School?
Teachers have access to Charanga which is an online platform that provides a comprehensive and progressive music curriculum in line with the EYFS framework and National Curriculum.

At The Oaks, we also have bespoke lessons taught for our class by an expert theatre practitioner from The Storyhouse in Chester throughout the academic year. These lessons are closely linked to our objectives across the curriculum and further embed the children's learning. 

Music practitioners also come and deliver units to KS2 with different instruments to expose our children to a variety of musical genres.

At our school, we have a specialist art teaching assistant who teaches each class for a unit lasting at least one half term per year.

D&T is taught in units across the academic year with a progression of skills with support with planning and implementation from the D&T Association. 
 Impact 
The impact of delivering a high quality arts curriculum across our school would be evident by the following statements:
Children across the whole school will demonstrate a love and respect for each area of The Arts. 

Children will achieve age related expectations across The Arts.

Children will become respectful and appreciative of different art forms and understand that people will have different opinions about The Arts.

Children will leave The Oaks having a love for learning about The Arts that will follow them into their further education.

Children will be able to work together alongside their peers and experience a variety of different art forms. 
At The Oaks, we enable our children to experience many different types of art throughout their time with us. We expose them to different cultures, different ways of life and different forms of expression to allow them to have more understanding and empathy towards others.