Curriculum
Early Years Foundation Stage
Early Years Foundation Stage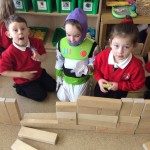 Our Early Years Foundation Stage Ethos
At The Oaks Community Primary School, we believe that starting school is one of the most important times of a child's life. As a dedicated team, we aim to make this an exciting but also settling experience for both the child and their family. At The Oaks Primary School, we really do believe that a child's time in the Early Years is a wonderful and memorable learning experience.We will nurture and support all of our children to ensure they all grow into curious and confident young people. We believe in the immense potential of each of our young learners and we are committed to giving them every opportunity to succeed. Children are born curious and they are drawn to learning and we will build our curriculum around developing this disposition and allowing being curious to develop deeper levels of understanding. We will always encourage questions and never tire of answering them.

The Early Years Curriculum
Children in the reception class follow the Early Years Foundation Stage Curriculum (EYFS). The curriculum focuses
on a balance between adult and child led activities. These opportunities and experiences are planned to meet children's learning needs and their interests. At The Oaks Community Primary School we believe in the value of play and it importance for a child's development. We provide a combination of creating experiences and learning opportunities through play both indoor and outside as well as direct teaching.
At The Oaks, we are fortunate enough to have a large indoor classroom with inviting learning areas created. The classroom is set up with these different learning areas that complement and enhance the EYFS. This includes a
writing area, a maths area and a role play/creative area and many more alongside the exciting and stimulating outdoor classroom. The classroom also has a purpose built construction room where the children have access to block play as well as a number of other small world resources.
In the classroom the children are involved in deciding what their classroom and learning will look like based on their children's interests. Using the children's interests and high quality texts, activities will be planned that link to the child's learning needs. Through working as a team with staff, children and families, we create an exciting curriculum where learning is fun and interesting!
Each half term our parents are invited to a 'Learning Journey Event' where children and their parents contribute to learning journeys and revisit prior learning.
The EYFS curriculum ensures that we plan learning opportunities in the following areas:
Prime Areas
Personal, Social and Emotional Development
Communication and Language
Physical Development
Specific Areas
Literacy
Mathematics
Understanding of the World
Expressive Arts and design
For any other information please visit the following website