Elm – Mrs Trafford-Haigh (Year 1)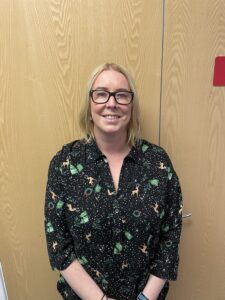 Mrs Trafford-Haigh         Miss Guthrie          Mrs Hignett            Mrs Bougen
Teacher                  Teacher                         TA                           TA
Hello everyone and welcome to Spring 1 in Year 1, Elm Class!
I am very excited to be joining the fabulous Elm class alongside Miss Guthrie, Mrs. Bougen and Mrs. Hignett who will also continue to support the children this term.  We have looked forward to welcoming the children back to school and seeing them children progress as they grow.
Important Information:
Water bottles, coats, spelling books and reading records should be brought in every day.
PE will be Friday afternoons so please send children in wearing their in PE kits on these days. As it is cooler, children can also wear dark coloured jogging bottoms or dark colour sweatshirts when they are outside for PE.  Forest School is also on a Friday so please send the children in with wellies in a bag also.  As you can see, they will be spending a lot of time outside on Fridays so warm clothes are needed.
Writing
This half-term our reading focus will be based on, 'Hermelin the Detective Mouse' which we will use as a text to inspire our writing.
The children will develop their knowledge of using the suffixes s and es to pluralise nouns as well as learning how the prefix 'un' can change the meaning of a word.  The children will use and, because and so to develop their sentence writing, showcasing what they have learnt to produce a letter and a narrative.
Phonics
Phonics will continue to be taught daily through sessions every morning. We will be recapping some sounds previously learned and introducing new ones. The aim is to gain confidence in being able to recognise and blend the sounds in words independently, all whilst having fun!
Reading
Reading is always a huge focus and is fundamental to learning in every subject. Please make sure you read your reading book every day and then go on myon for your 'reading for pleasure'. Please fill in the Reading Log each time you read and let us know which books you love!
Maths
This half term, we will continue to look at 2D and 3D shape and their properties.  We will also begin to work on numbers 0-10.  Make sure you go on to Numbots to build up your fluency skills!
Outdoor Learning
This will continue on a Friday afternoon, please make sure that you come to school wearing suitable clothing to go into our forest school area. It might be raining, muddy or cold so please make sure you have suitable clothes to protect you.
DT 
As part of our DT, we will be investigating bridges.  We will use what we have learnt to design a new bridge to cross the canal in Ellesmere Port.
Geography
This half-term we are learning about the different countries of the United Kingdom, their capital cities and surrounding seas.  The children will devise simple maps of familiar places and will use maps, atlases and globes to support their learning.
Homework
Each week, the teaching team will give homework on a Friday. This will be given via ClassDojo. If you need a login or would like help with the app, please let us know.
Useful Websites
If you have any questions, please email either of us directly on:
lindseytraffordhaigh@theoaks.cheshire.sch.uk or bev.guthrie@theoaks.cheshire.sch.uk
Class Information Updates
Don't forget to follow us on Twitter @TheOaksCPElm to get frequent updates about what we have been up to in class. This is what we will be using for any home learning should we need to.